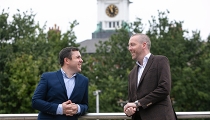 Griffith College Sets the Pace for HEIs With AI-Powered Endpoint Protection
Griffith College prides itself on its ability to provide the latest lectures, coursework materials and training available in higher level education today. John Molohan, Head of IT, knew that the university needed to take the same approach to protecting its digital infrastructure.
The Problem
A worrying uptick in malware commercialisation, a steady stream of readily accessible zero-day exploits and an increasingly complex network architecture made one fact very clear: Traditional cyber security tools wouldn't cut it anymore.
With over 500 employees spread out across three different campuses, the vulnerability of those endpoints always stood out as a chief concern. Cyber-attacks change for the worse by the day, and it would only be a matter of time before hackers took advantage of the vulnerabilities.
Hurdling The Shortcomings of Traditional Anti-Virus
Higher education institutions face the same tumultuous terrain that enterprises do when it comes to protecting highly sensitive information from threat actors. But, they often find themselves with tighter budgets that don't leave a lot of room for digital transformation.
Griffith College recognised that its current anti-virus tool wasn't evolving with the daily risks that it was tasked with combating.
"Our solution at the time was signature-based and therefore outdated in terms of what other products were available," Molohan said. "Given its ineffectiveness against emerging attack methods and the significant administrative overheads that came with it, upgrading was an easy decision for us."
The staff at Griffith College, like the faculty at so many third-level institutions across the world, wasn't exactly technology savvy and could be overlooking new threats. That combined with tools that were simply ineffective at stopping modern attacks, Molohan knew his team had to make a change quickly.
The opportunity to upgrade its endpoint security came during 2017, as Griffith College began a project that would see the IT team overhaul its security practices to bring them in line with industry standards.
The Solution
Bringing Cyber Security In Line With The College's Forward-Thinking Vision
Molohan and his team began a targeted initiative that applied a layered approach to upgrading the university's cyber security framework and tools. There would be no stone left unturned, and they wanted to exhaust all their options.
In the summer of 2018, Griffith College formed a strategic partnership with Integrity360. Our specialists were able to leverage their years of experience working with anti-virus and endpoint protection solutions to help the university find a platform that fit its specific needs.
"We ran extensive proof of concept trials to make sure we were adopting a product that ticked all the boxes for our current needs, and that it was future-proofed, too," Molohan said. "Integrity360 gave us the insight we were looking for on the tools we were testing to help us make an informed decision."
Molohan and his team ultimately chose the CylancePROTECT endpoint security solution. Its unique ability to leverage a miniaturised AI algorithm, rather than needing an internet connection to test threats, as well as the fact that it was easily deployed were critical selling points.
"Being able to simply install the endpoint protection without requiring a system reboot allowed us to know that no matter who was using the device, it was secure," Molohan said. "Even though it was so easy to use and implement, the protection it offered through AI was second to none."
Integrity360 worked closely with Griffith College throughout implementation and provided post-sale support to ensure a smooth roll-out. In all, 780 clients were installed across Cork, Dublin and Limerick.
"The technology behind it is certainly cutting-edge, but the idea that third-level institutions should be investing in state-of-the-art cyber security shouldn't come as a shock," Molohan said. "There's a lot of highly sensitive data collected and stored by colleges, and forward-thinking universities are doing all that they can to protect it."
Griffith College has significantly improved its endpoint protection for staff, and is planning on providing the same level of security for its students down the road. The project was a resounding success, blending a simplified user experience with powerful technology to bolster a cyber security strategy that aligns with the university's forward-thinking attitude.
CylancePROTECT Features:
Prevents known and unknown malware before execution
Deploys quicker than traditional solutions, with less effort
Lightweight agent uses a fraction of the processing power (1-2% of CPU)
Identifies and stops attacks before they can even start
No interruption for signature updates or slow scans
AI model prevents zero-day payloads from executing
If you would like more information about this case study or other projects we have completed please get in touch.